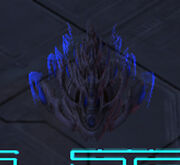 Celestrial
Tier 6 Tower/Fighter
500 minerals / 4 supply upgrade
850 minerals / 7 supply total
Armor Type: Biological
Damage Type: Creation
| | |
| --- | --- |
| HP | 2500 |
| Damage | 0 |
| Attack Speed | 4.5 |
| Attack Range | 7 |
| Energy | 0 |
Abilities
Edit
Creation - With each attack, the celestial creates a celestian to fight. Celestians are released after 20 seconds.
Ad blocker interference detected!
Wikia is a free-to-use site that makes money from advertising. We have a modified experience for viewers using ad blockers

Wikia is not accessible if you've made further modifications. Remove the custom ad blocker rule(s) and the page will load as expected.